F1: Feature F1 Unlocked 'He was walking on water' – Senna's magical Donington 'Lap of the Gods' remembered by his fellow drivers
c505218304b50c59c3659f6dda43bae7–links-10–>c505218304b50c59c3659f6dda43bae7–links-7–>c505218304b50c59c3659f6dda43bae7–links-4–>c505218304b50c59c3659f6dda43bae7–links-1–>c505218304b50c59c3659f6dda43bae7–shortcode-0–>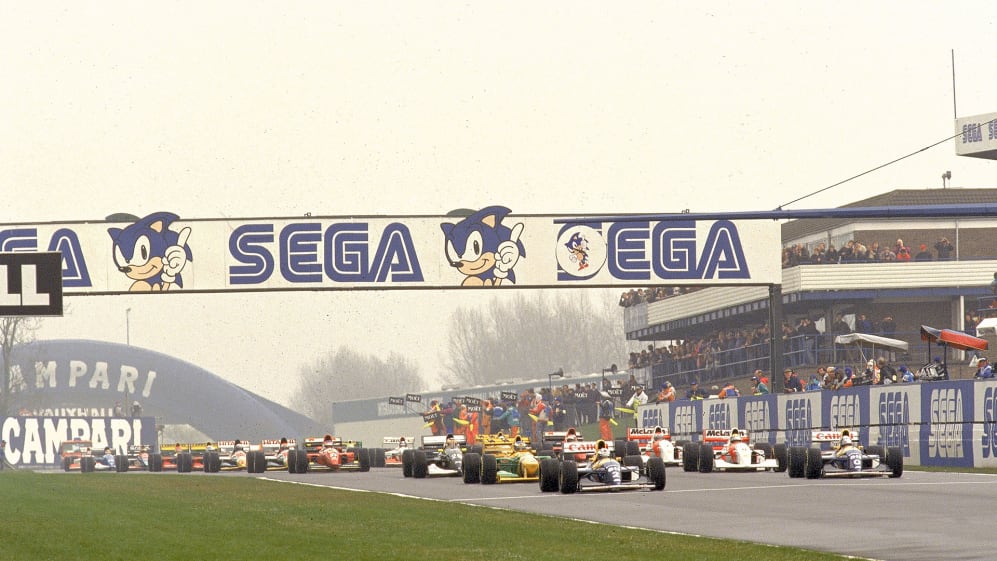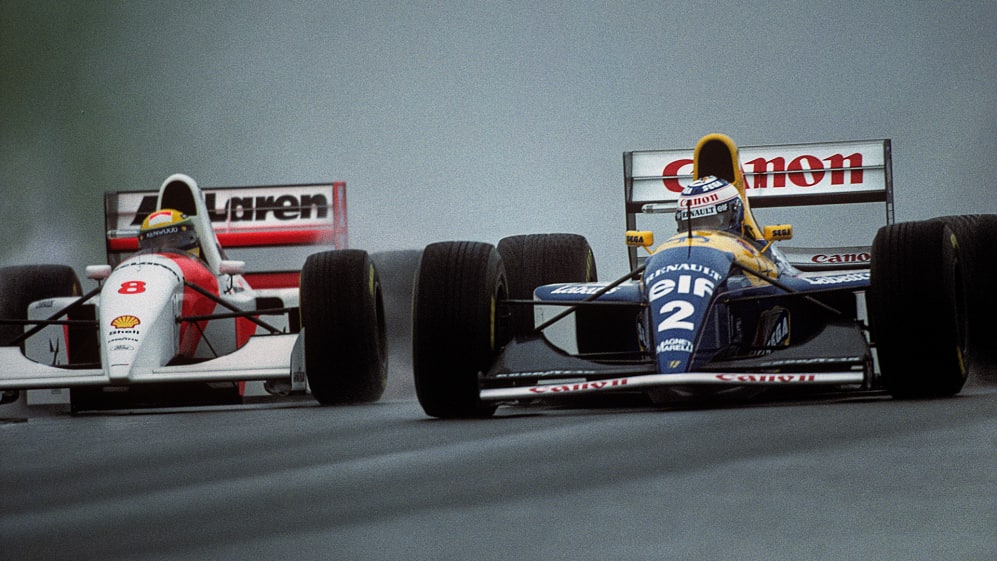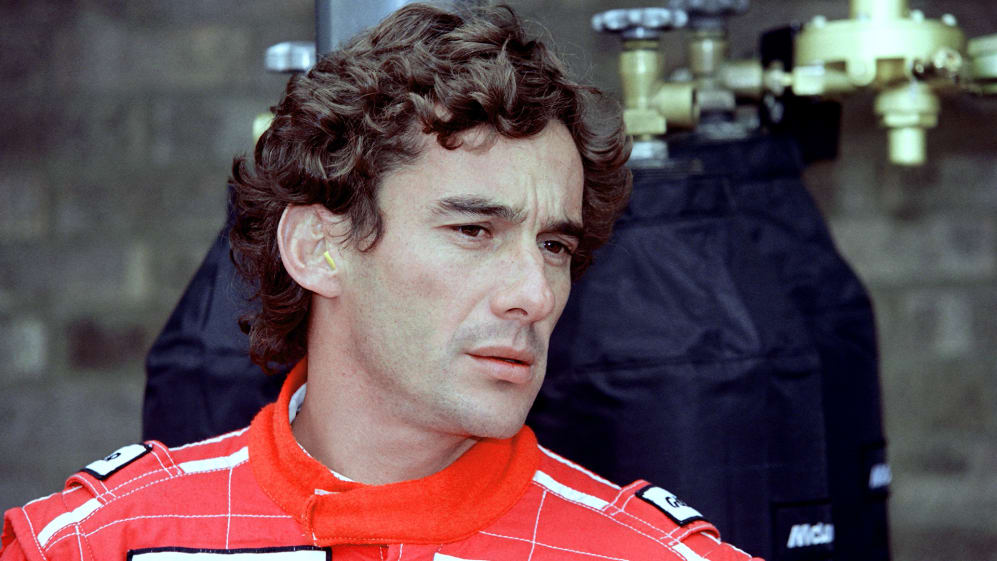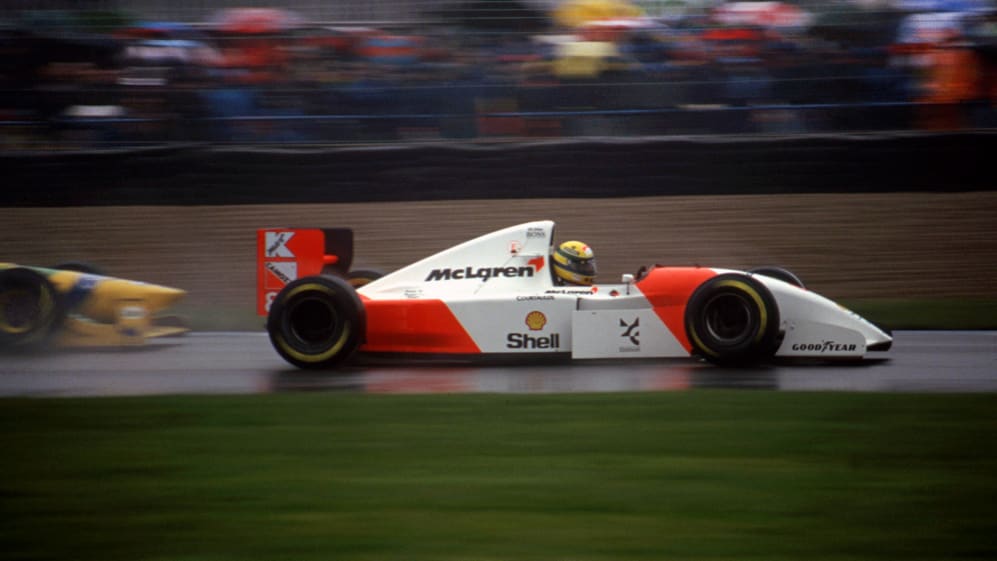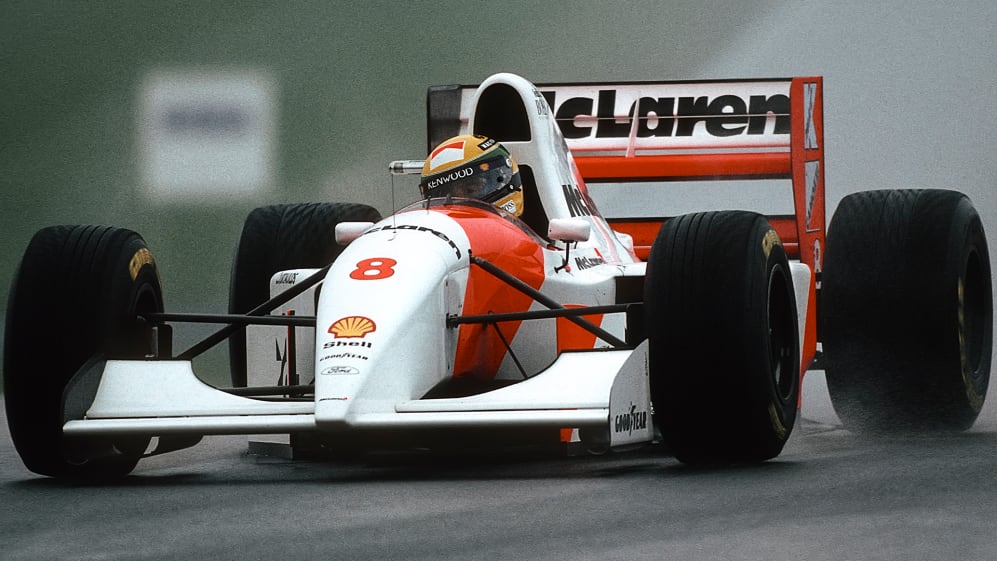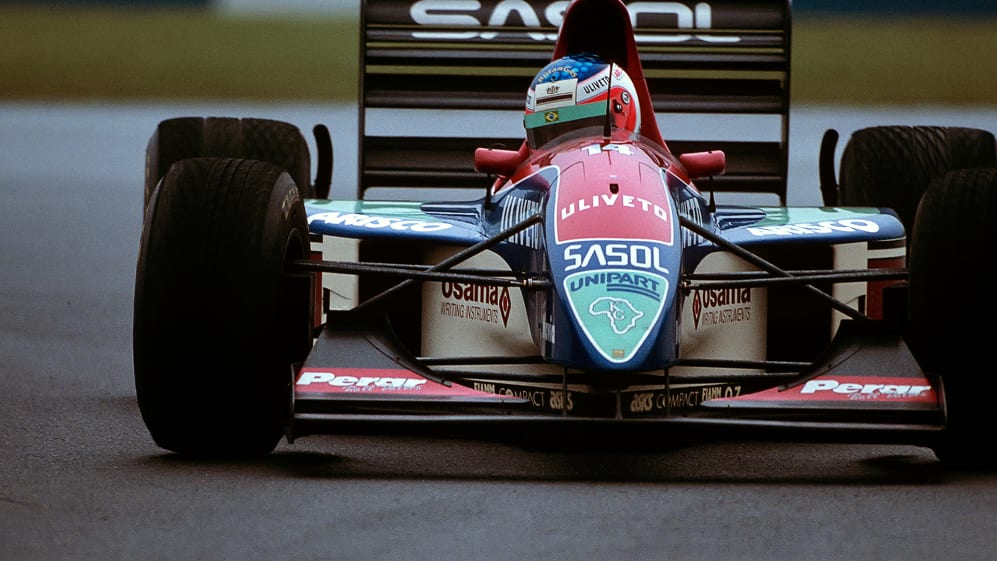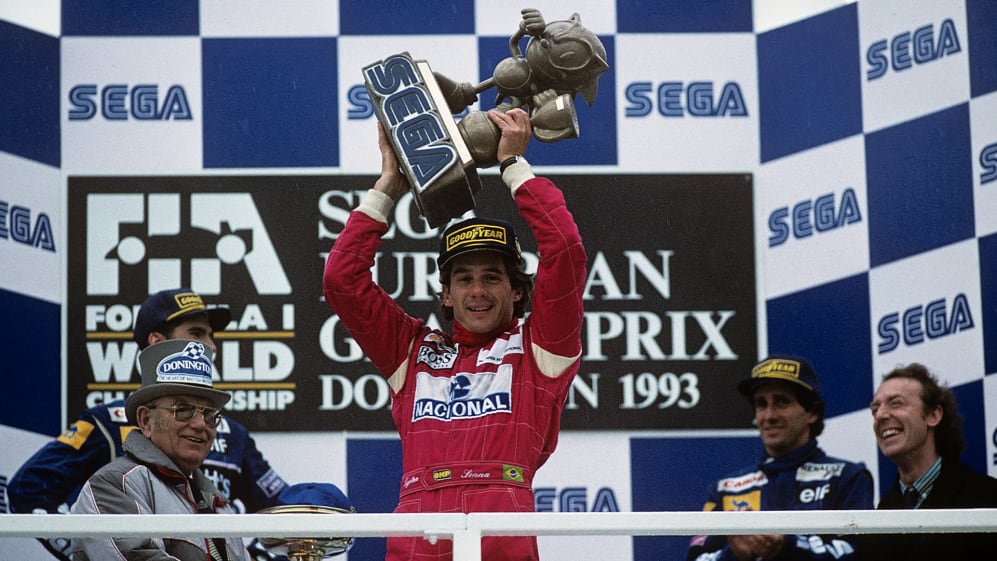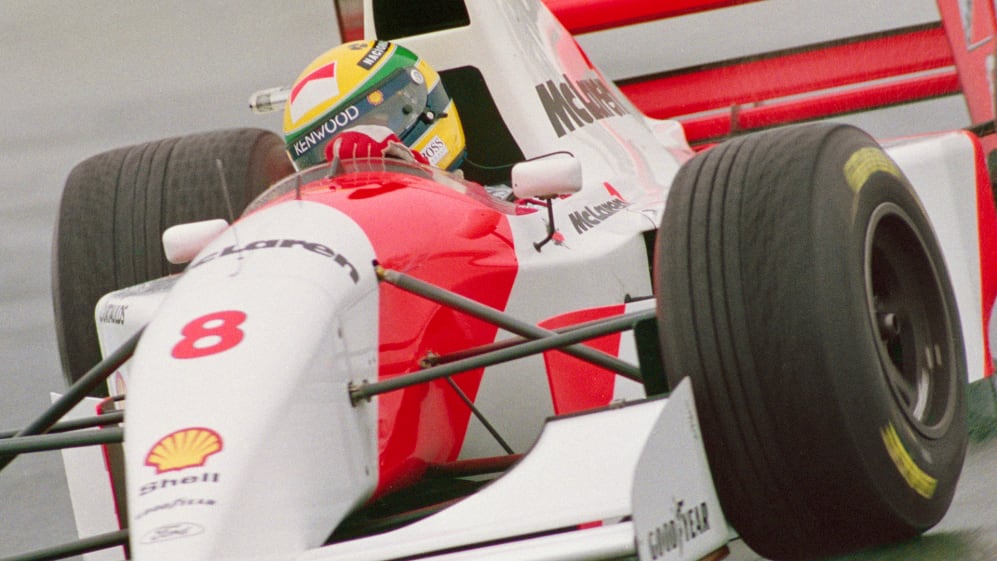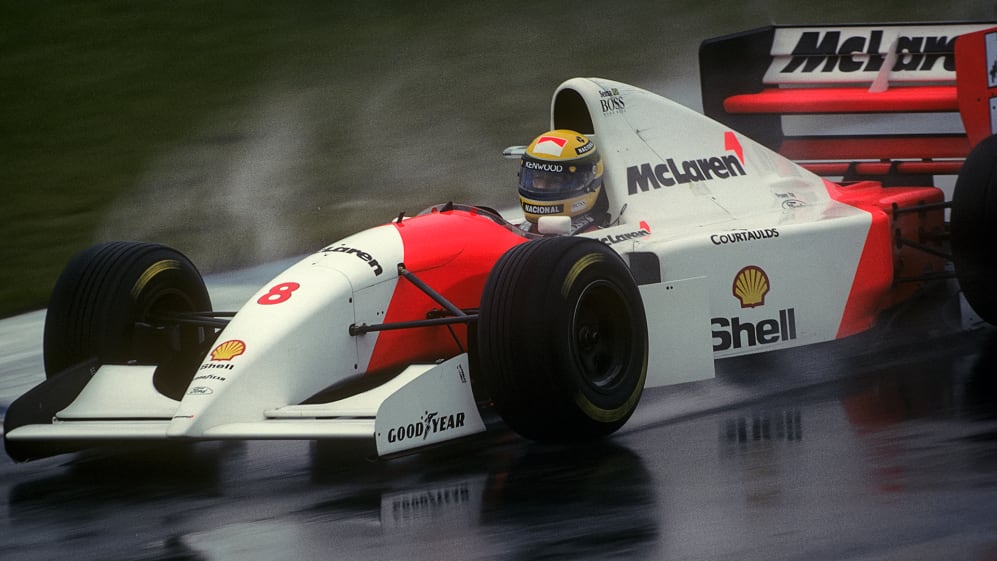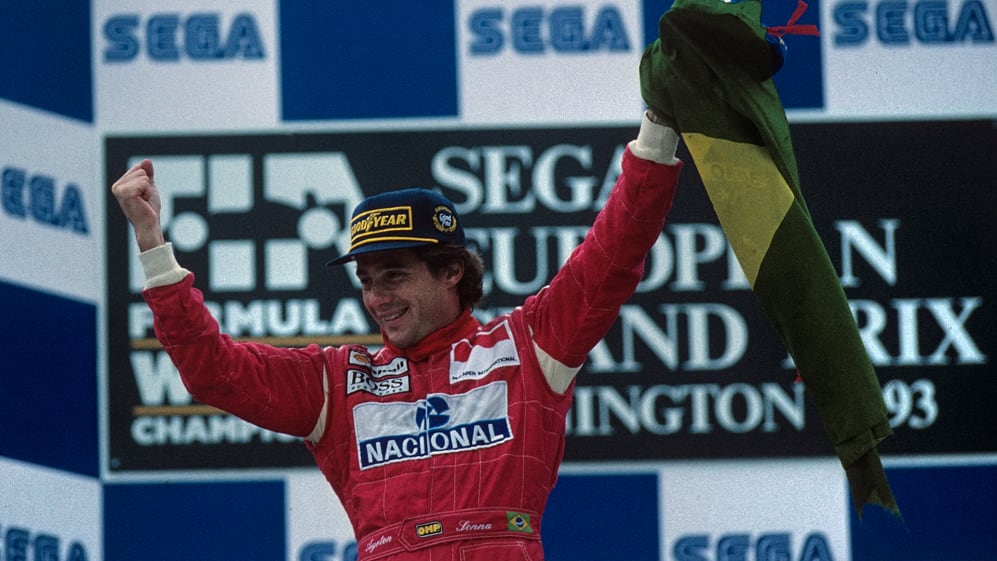 On this day 30 years ago, Ayrton Senna delivered one of the most memorable laps in F1 history by surging from fifth to first in treacherous conditions at the start of the 1993 European Grand Prix at Donington Park, paving the way for a devastatingly dominant victory. To celebrate what has become known as 'The Lap of the Gods', we spoke with a host of drivers and personalities who were involved in that day for their first-hand memories, while also diving deeper into what made Senna so good in the rain…
"This is an astounding performance by the Brazilian… Look at the gap!" Murray Walker yelled as he commentated on the opening exchanges of a wet and wild encounter at Donington, which joined the F1 calendar for the 1993 season in a one-off appearance.
UNDERDOG TALES: When Senna took the F1 paddock by storm with Toleman and made Monaco's streets his own
Senna had just wowed the soaking wet crowd with a spectacular overtaking-filled opening lap, dragging his relatively under-powered McLaren MP4/8 from fifth position at the exit of Turn 1 to the lead only a handful of corners later, and then racing into the distance.
In qualifying, a dry second session meant Senna had no answer to the one-lap pace set by Alain Prost and Damon Hill, who were driving the standard-setting Williams FW15C, while the Benetton of Michael Schumacher also nosed ahead to leave him fourth on the grid and facing a battle to reach the podium.
But on Sunday, the heavens opened and set the scene for a charge of all charges. Renowned for his ability in the wet – with plenty of examples to choose from over the years – these slippery conditions were just the leveller that Senna needed and, across a minute and a half that is now etched in F1 history, he would display those skills in their most potent form.
Senna begins his dance in the Donington rain
As the lights went out and spray covered the pit straight, the first metres of Senna's 'Lap of the Gods' were actually rather sedate as he dropped behind the fast-starting Sauber of Karl Wendlinger off the line, got crowded out by Schumacher and just about kept team mate Michael Andretti at bay. A few seconds later, though, that all changed.
Cutting back to the right-hand side of the track at Redgate, Senna quickly dispatched Schumacher – F1's future 'rain master' – by expertly applying the throttle, before turning his attentions to Wendlinger, who remembers well the moment that famous bright yellow, green and blue helmet swept around the outside of him at the rollercoaster-esque Craner Curves.
READ MORE: From Hamilton and Villeneuve to Schumacher and Senna – The best rookie seasons in F1 history
"I thought, 'Oh, it's him!'" Wendlinger recalls, having initially risen to third behind Prost and Hill. "On the other hand, it was also my line in the warm-up out there on the right, because it's off-line… Most of the tracks and most of the corners in the rain [offer] more grip off-line, because you're not on the rubber.
"Maybe I was a bit too much focused on the cars in front, just going down the hill and seeing what's going on. I knew, of course, that this is the faster line, but maybe I didn't expect in the first lap, with cold tyres and a full tank [of fuel], that he does it already so fast this corner…
"I remember, and this is maybe a little bit my character, 'Okay, first lap of the race, full tanks, cold tyres, let's see, try to survive this lap, try to find a rhythm and then go on'. I think when you watch Ayrton's first lap it's the opposite – don't wait and see, just be there and destroy everybody!"
One after another, Senna's rivals fall by the wayside
Destroy the competition is exactly what Senna did as he blasted his way out of the Craner Curves, nailed his approach to the Old Hairpin and overhauled Hill's Williams on the run between Starkey's Bridge and McLean's, the spot at which Wendlinger's race would come to an end after being hit by Andretti. Next up? Former team mate, arch rival and race leader Prost.
Another strong exit from Coppice provided the momentum Senna needed to tuck in behind Prost down Starkey's Straight and, after the left-right flick of The Esses, the opportunity – and gap the Brazilian did not need to be asked twice about – presented itself at the Melbourne Hairpin, where he duly launched his car down the inside, parked it at the apex and pedalled away with the lead.
READ MORE: McLaren to honour Senna legacy by permanently featuring logo on F1 cars
All that remained was the left-hander at Goddards and Senna had completed his remarkable rise across just 11 corners, storming past some SEGA advertising boards on the start/finish straight to briefly give the impression he was playing a video game.
It did not stop there. So fast was the triple world champion after working his way past Schumacher, Wendlinger, Hill and Prost, that Walker mistakenly thought Rubens Barrichello – another Sao Paulo native on a mission – had climbed into a podium spot behind the two Williams machines. "I'm sorry, I missed Ayrton Senna!" Walker added, before praising his "genius" at the track where he first tested an F1 car 10 years earlier.
Holding fifth position at this point was Ferrari driver Jean Alesi, who knew where Senna was for a matter of seconds before the Brazilian seized the lead and made the early stages of the race his own – pulling almost seven seconds clear of Prost in just three laps.
Senna's 'higher limit' on show to the world
"To be honest, he disappeared!" Alesi says of Senna's start to the race. "To go on the grid, we faced already some difficulties [with] the rivers, because this circuit is full of rivers – it's up and down, and there is a river crossing the road. In the first two laps, you really needed to make sure that the car was able to cross these rivers, and with a lot of fuel.
"Everybody was taking [real] care about these first laps, except him! Again, the feeling when you have a standing start on the wet is very strange, because you have a very nice visibility for five metres. After 50 metres already the spray is going up, then it's just a white picture in front of you.
READ MORE: From Senna's Suzuka stunner to Button's Montreal magic – 10 of the best comeback charges in F1 history
"Everybody is risking the maximum to be fast. But maybe for him the risk was higher than what we were feeling. The visibility was the same for him as for me, and I remember it was close to zero. We didn't go full speed on the river, yet he went full speed, so you have these kind of risks – maybe the limit was higher for him."
Thierry Boutsen, that weekend starting his final F1 season with Jordan and enduring a particularly tough race after only just managing to squeeze into the car, used a similar analogy while looking back on Senna's first lap.
"It felt like everybody was asleep and he was the only one woken up!" Boutsen says. "It was absolutely brilliant. I don't think anybody has ever done that – everybody was very impressed. I enjoyed watching it and I saw it a few times.
"It looked very funny from the outside. It really felt like he was the only one that took a cup of coffee in the morning, woke up and… It was exactly like that. You cannot do that if the car is not good, but he was just unbelievable."
A drying track threatens Senna and McLaren's superiority
Conditions steadily improved over the following laps, with the rain holding off, the spray easing and some 20 cars pounding around to gradually dry the track surface. Half a dozen tours in, the first signs of Prost and Williams staging a comeback emerged as the Frenchman stabilised the lead gap and then began to chip away at it – the advantage shifting away from Senna and the Ford-powered McLaren.
READ MORE: Actor who will play three-time F1 champion Ayrton Senna in new Netflix series revealed
At this point of the season, Senna was competing for McLaren on a race-by-race basis, commanding a reported fee of $1 million per outing. McLaren team boss Ron Dennis had convinced him to accept a last-minute deal after failing to secure Renault engines – which were fitted in the rear of adversary Prost's car – as a replacement for works Honda power, leaving question marks over the team's potential.
Matthew Jeffreys, Head of Vehicle Design at McLaren and project leader for the MP4/8's monocoque, recalled Senna's thoughts when he tested the car for the first time, and how their star driver made up for any power deficit when the playing field was levelled out, including on that special day at Donington.
"We didn't know until very late whether Ayrton was going to be driving for us at all," he says. "There was all that going on because we were going to Ford engines and he thought it wasn't going to be competitive. We had Mika Hakkinen and Michael Andretti lined up. I think it's well-documented that he did a deal with Ron and tossed a coin or something as to how much they were going to pay him.
"He did a Silverstone test quite late in the day and thought, 'Actually, this car is pretty good'. Of course, it was an active [suspension] car. We had sort of done bespoke things with the Ford engine, which were unique to McLaren, and had improved its performance. It was a highly sophisticated car and quick.
"But really, the Williams-Renaults were the highest-performing cars that season. We had a power disadvantage to them, but at Donington, with the rain being quite a leveller, it really brought out the sublime skills that Ayrton had.
READ MORE: The top 8 Monaco masters – and their greatest wins in the Principality
"He had such fantastic car control and sense of where the grip was that he just took advantage of that and made the others look very pedestrian. I was back home for that race and I remember watching on the telly thinking, 'God, that's a bit special!'.
"He was well known for his unique driving style, and the sort of stamping of the throttle, but to be able to do that when it's wet as well, or to sense the grip that he's getting when it's wet, in a way that's just so much better than the other top professionals that he's competing with, [it] puts him on a super-high pedestal from my point of view."
Making the right calls on the track and in the pit lane
With the rain returning, easing, returning and easing, Senna and McLaren would make the difference in another key area by completing four pit stops to Prost's seven across the 76-lap encounter – judging the conditions perfectly as they moved between wet tyres and slicks.
"Alain was racing with a stronger car, so when Ayrton had an opportunity to make the difference, he was, let's say, unbeatable," comments Alesi, underlining Senna's wet-weather prowess, before describing the balancing act of being on the right tyre at the right time.
"It was just confidence and the feedback you had from the car. We had some information from the tyre manufacturer, from our engineers, but as a feeling… That's why during this race Alain stopped two or three more times than anybody else.
READ MORE: Prost vs. Senna – The top 10 moments of F1's defining rivalry
"The feedback Alain had at the time from the car, and the lap times as well, probably he felt that that [the tyres were] already going off, but it was not really the case. The confidence in these days was really the key of the success."
In the middle of the pack for much of the race was another Brazilian, Christian Fittipaldi, who highlighted a critical difference between pit stops in the 1990s and those carried out today, having missed out on a point to team mate Fabrizio Barbazza when Minardi split their strategies.
"It was typical British weather," he states. "Especially Donington… Because of my F3 experience, I remember going there a couple of times and testing. It never dried and it never [fully] rained, it pretty much drizzled the whole day. I think that made the tyre choice a lot more complicated for everyone.
"The way the race panned out, you could go both directions. You could try to stay on the same set and, when it started to rain a little bit harder, you would obviously struggle a little bit more, but then you would stop a lot less. In those days, stopping was a big thing, because tyre changes weren't done in two seconds.
"It was hard conditions throughout the day. I had driven in the wet in much, much more critical conditions, [but] it was just damp and soggy and sliding all over the place, like the whole day!"
READ MORE: From Ascari to Verstappen – How all 11 back-to-back F1 champions did the double
Wendlinger echoed Alesi and Fittipaldi's sentiments. "It is not only driving, it is also always making the right decision to come into the pit lane to change tyres again, from wet to dry, and dry to wet," he says. "This is part of, I think, the phenomenal performance that he showed there.
"He was at this race one step better than the rest of the field. I watched the race, of course, in the motorhome [after retiring], and there was never ever… How can I say? You never ever saw that anything [bad] can happen. He was like walking on water. For me afterwards, watching this race on television, it was very, very impressive what he showed."
Senna's brilliance is echoed by a fellow Brazilian
Senna's ultimate winning margin? One minute and 23.199 seconds over Hill, with Prost dropping back to third – a lap down – after stalling at one of his seven pit stops.
Indeed, the Williams drivers were fortunate to both end the race on the podium, as while Senna cemented his legend via win number 38 of 41, newcomer Barrichello came agonisingly close to making it two Brazilians in the top three with a stunning performance of his own.
Often overlooked, Barrichello pulled off another 'Lap of the Gods' that day, having battled his way through the spray to climb from 12th on the grid – effectively 11th due to JJ Lehto's pit lane start – all the way up to fourth in a similar timeframe.
READ MORE: 'He obliterated the opposition' – Remembering Senna's first F1 win
With a getaway that defied the tricky conditions, Barrichello jumped several cars heading to Turn 1, before passing Gerhard Berger, evading the Andretti/Wendlinger drama, getting a run on Alesi down Starkey's Straight and then making a bold move under braking for The Esses, where he also overtook future team mate Schumacher – the latter's perception admittedly playing its part…
"I was enjoying it so much," Barrichello says. "I had a great start, jumped up [from] around the middle [of the grid], then around the first lap I was passing some of my heroes. When I passed Berger, for me it was phenomenal… I couldn't stay with the fact that I had so much going on, and so many emotions.
"I came into the straight and I was fighting with Alesi. I was on the inside and I thought to myself, 'I'm never going to brake before he brakes, he will be the first one to brake'. I had that in mind and I said, 'I'm going to pass Jean Alesi, I will pass Jean Alesi!'
"Then it came to the braking… I braked so damn late, that if Schumacher didn't realise I was going to crash right in the middle of him, we would have had a big one – and he avoided me. With that I was able just to do the normal course and I finished the first lap in fourth from 12th."
Cruel twist of fate denies Brazil a double podium
As the afternoon wore on, Barrichello cleared the Williams cars to run second to countryman and hero Senna, raising the prospect of a shock Brazilian one-two result. But just six laps from the chequered flag, disaster struck in the form of a fuel issue, forcing the Jordan driver to park up on the grass and hold his race helmet in despair.
READ MORE: Prost vs Senna, Mansell vs Piquet and more – F1's fiercest team mate rivalries
Although a devastating outcome at the time, Barrichello can now look back with pride at a special showing for himself, Senna and Brazil as a whole.
"At a certain point I was second, I had P2 on my board, and I saw Ayrton behind me," Barrichello explains. "I said, 'Jesus Christ, I'm P1! I can't believe I'm P1!' I realised then it was blue flags because he was actually giving me a lap! That was the time we met during the race.
"Then, I think, the fuel… At the time they said it was a problem with the fuel pump and so on, but it was a lack of fuel. We used so much more traction control that we used too much of the fuel. It was very disappointing, because I would have been on the podium with my hero.
"Of course, we talked about it [after the race] and it was phenomenal, but I missed that podium! It would have been super, super cool. But all the teams started to talk about me. If you take the highs and lows, the high is always the one to stick to – I'm proud of that day."
And so the race belonged to Senna. His only drama? An additional, wasted trip through the pits due to the McLaren crew not having his next set of tyres ready, which nonetheless yielded one of F1's more unusual fastest laps given that the entry acted as a shortcut.
BEYOND THE GRID: Alain Prost on Ayrton Senna, his 1993 title – and almost rejoining Ferrari
The secrets behind Senna's wet-weather success
For Jeffreys, it is a drive that belongs at the very top of Senna's list, and he says a conversation they once had back at McLaren's headquarters helped explain how the Brazilian was able to make the difference in such challenging conditions.
"It's right up there, if not the best race he did," says Jeffreys. "I was at Silverstone in '88 and that was just such filthy weather, when you couldn't see anything. In fact, he came into the factory soon after that race, up in the drawing office, and I said to him, 'How do you cope when you literally can't see anything in front of you?'. He said, 'Well, you just have to have faith in the white lines by the side of the track…'.
"He's looking sideways at the white lines and never assuming that somebody's stopped right in front of him. It's just incredible bravery, but incredible perception as well to be able to drive at that speed, doing those lap times, looking sideways basically!"
Fittipaldi adds: "Honestly, I just think that he was more comfortable… Let's put it this way: no one likes driving in the wet when you can't see. Yes, maybe you like driving in the wet during a practice session, when you're by yourself – I also like driving in the wet when I'm by myself…
"But if you put me to start 25th in a race with dreadful conditions, I'm probably going to be cursing for the next hour or so, because it's something that you're doing in the car that you're not comfortable [with]. You're running the throttle wide open, but at the same time you can't see, so it's not fun.
READ MORE: The records that could be broken by Hamilton, Verstappen, Leclerc and more in 2023
"I think that he could adapt to these conditions very, very fast. As he was driving competitive machinery, he was usually on the [front] end of the grid, and that made his life less hard. But I'm not taking any talent away from him. What put him there was the fact that he could adapt to changing conditions, I think, faster than any other driver – then he could capitalise on all of that."
Also present at Donington that day was Pat Symonds, Senna's first-ever F1 race engineer across his debut 1984 season with Toleman, and now watching on from the Benetton pit wall while working the same role for Schumacher.
"There's something about that, isn't there? What does it take to be so dominant in the wet?" Symonds ponders, namechecking Senna's breakthrough drive to second place at Monaco in '84, his maiden win with Lotus in '85 and his Donington dominance of '93 – the common theme being poor weather conditions.
"The good guys are more dominant in the wet. I think it's when your natural ability comes into it a bit more. If you think… If you had a car, the tyres were never changing, the track was never changing, you could train yourself almost in a robot way that when you get to this point, you press the brake pedal, and when you get to this point, you press the throttle.
"In the wet, it's nothing like that. Every single millimetre of tarmac is different from the last time you got there, so you need this real, natural ability, and you need a hell of a lot of confidence, particularly on the first lap.
BEYOND THE GRID: Steve Nichols on creating the most dominant F1 car of all time
"Okay, after you've done 20 laps in those conditions, you're starting to sort of find your margins. It's not like driving in the dry, you still can't do it robotically, but you're starting to see where your margins are. First lap, you've got no idea.
"You've just got to do it on whatever it is that's in the head of a racing driver that makes them have that incredible sense of balance, that incredible feel for the car, that incredible understanding of what the car's doing. I think that lap at Donington probably showed that he had it above everyone else."
A superstar who will always be remembered
Close friends throughout their careers, Boutsen is in no doubt that Senna was the best driver he ever witnessed grace a race track, but also stressed that the 1993 European Grand Prix showcased only a portion of his talents.
"It was not only in the wet," he says. "In the dry he was similar. He was capable of using the car at 100%, at a rhythm that I think nobody else could do. He was really a master in using the car at 100%, all the time, which made the difference.
"Once you sit in a race car, you drive it, you know that you've lost a couple of tenths here, one tenth there, three tenths there, but he never did that – he was always at 100%. I consider him as the best driver that I have known. Period.
HALL OF FAME: Three-time F1 world champion Ayrton Senna
"He was my best friend, I would say, during that period of my life. We were very, very close. He should have been godfather of my second son, Cedric. Unfortunately, he died a few days before Cedric was born, so it didn't happen."
As Boutsen alluded to, Senna's performance at Donington would go down as a late addition to his long list of legendary F1 drives, with the three-time world champion's life and career cut tragically short just over a year later on that fateful weekend in Imola.
He may have passed away far too soon, but days such as April 11, 1993 ensure that Ayrton Senna da Silva will live on in the memory of every Formula 1 fan who ever witnessed his mastery behind the wheel of a car.
You'll unlock this article and get access to:
Already have an account?
Sign In
https://www.interdeportes.es/wp-content/uploads/2023/04/Senna-Donington-Header.png
0
0
interdeportes75
https://www.interdeportes.es/wp-content/uploads/2021/10/logo-nuevo-fondo-claro400x111.png
interdeportes75
2023-04-12 01:39:58
2023-04-12 01:39:58
F1: Feature F1 Unlocked 'He was walking on water' – Senna's magical Donington 'Lap of the Gods' remembered by his fellow drivers