F1: Feature F1 Unlocked UNDERDOG TALES: When Senna took the F1 paddock by storm with Toleman and made Monaco's streets his own
c505218304b50c59c3659f6dda43bae7–links-10–>c505218304b50c59c3659f6dda43bae7–links-7–>c505218304b50c59c3659f6dda43bae7–links-4–>c505218304b50c59c3659f6dda43bae7–links-1–>c505218304b50c59c3659f6dda43bae7–shortcode-0–>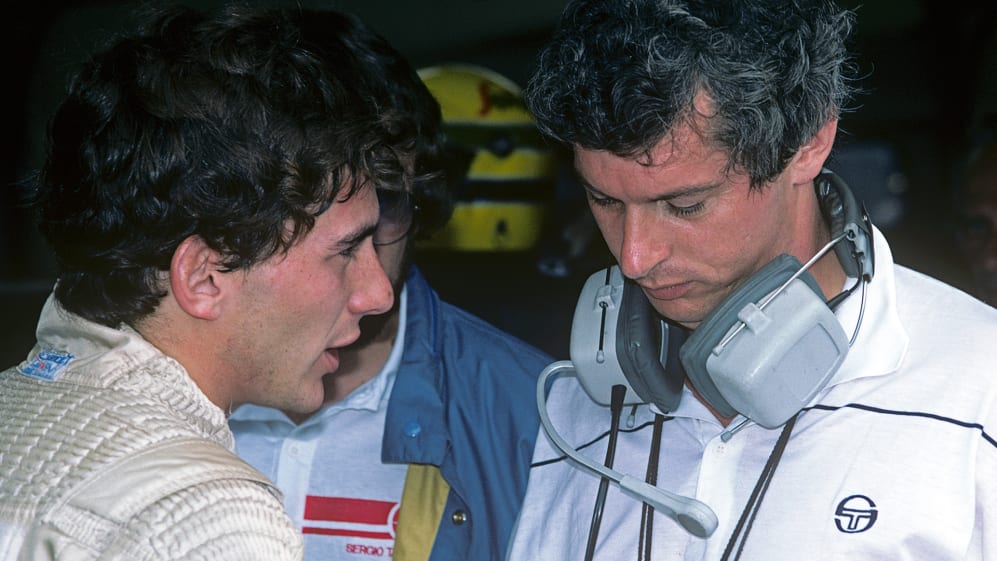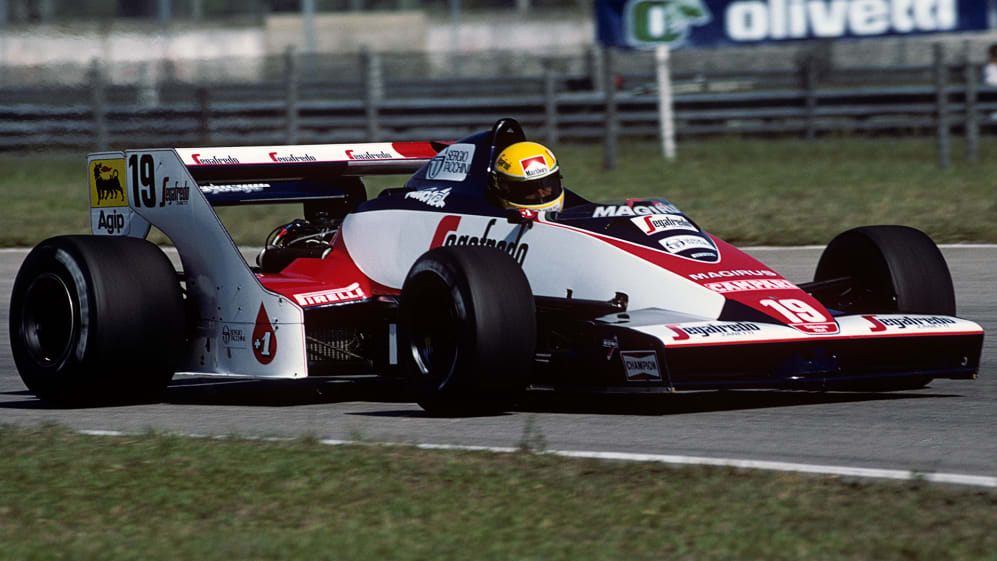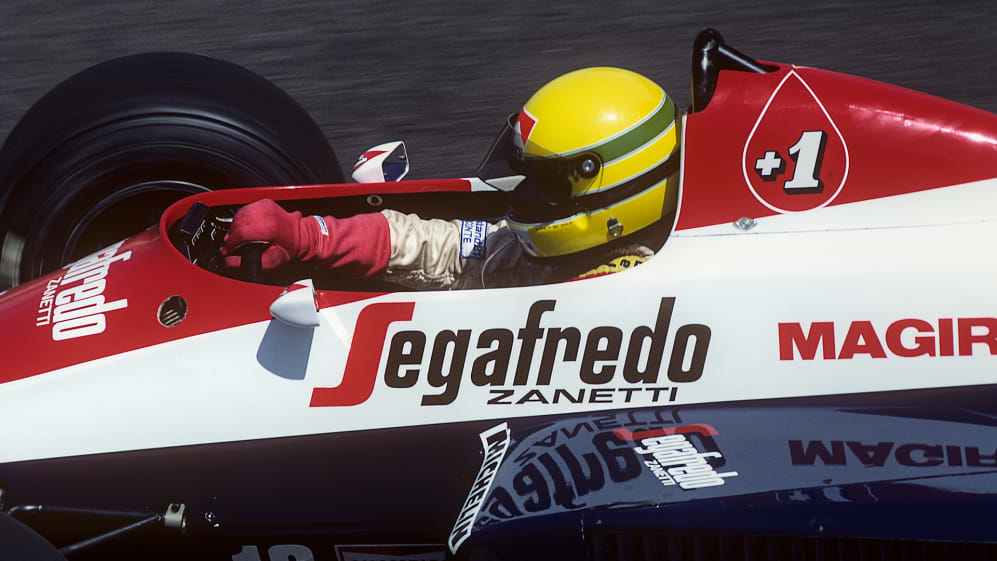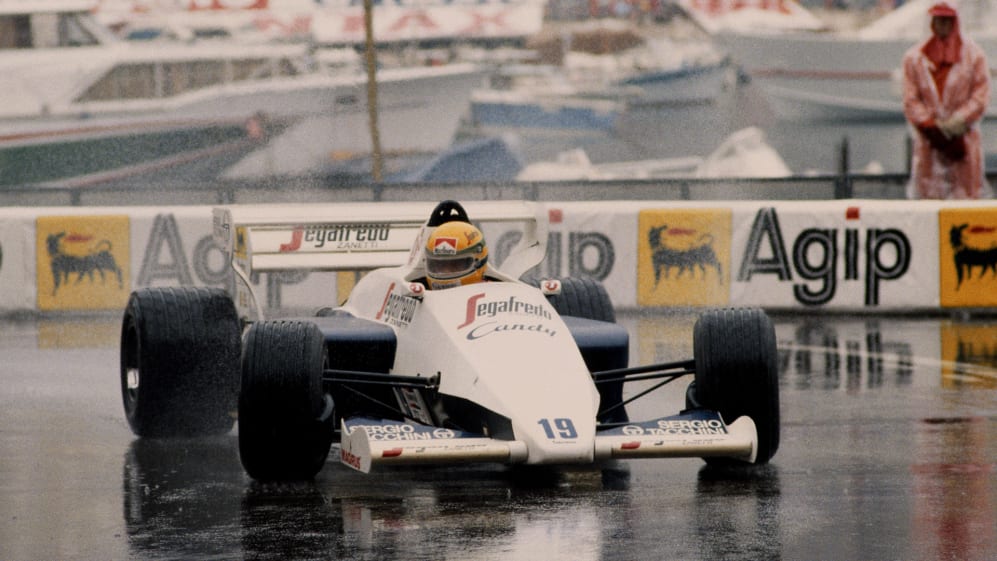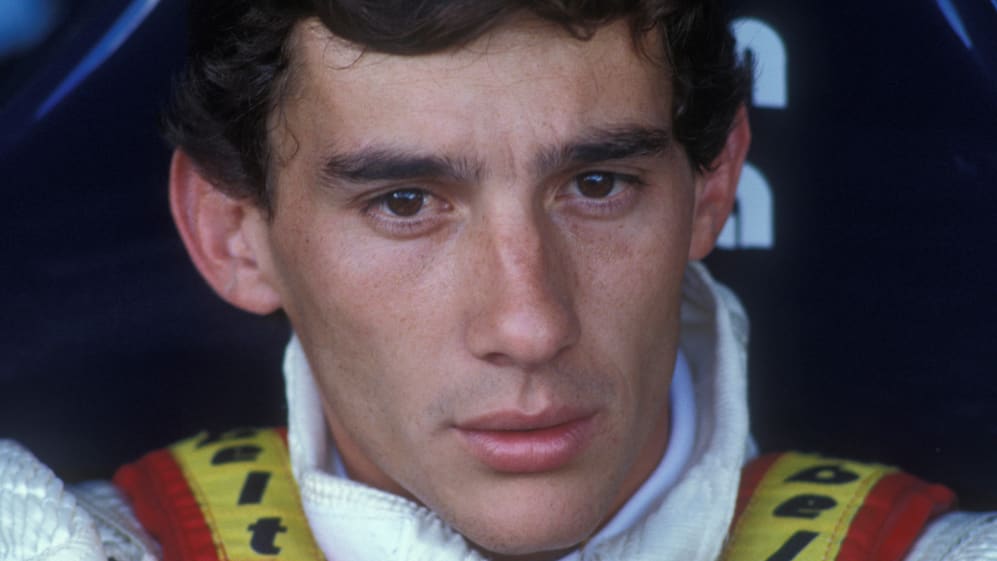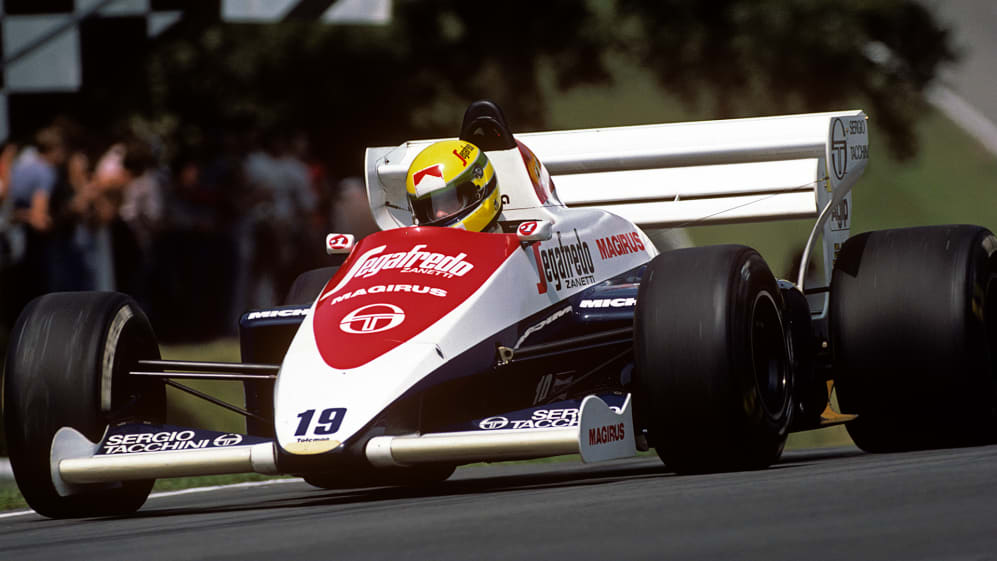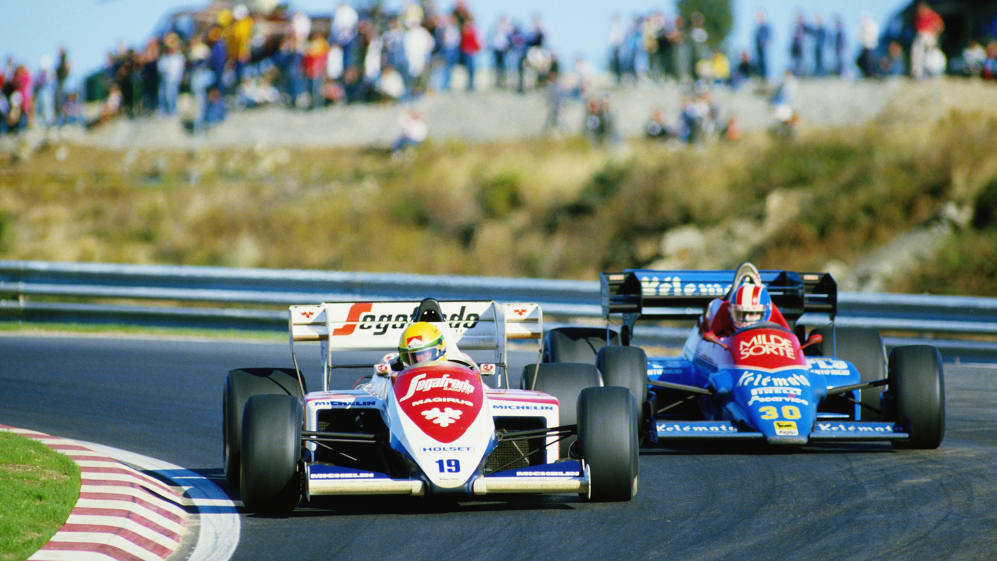 Ayrton Senna needed only a handful of races to show the world that he was an F1 megastar in the making, taking a famous second-place finish – and so nearly a victory – with the plucky Toleman team at the 1984 Monaco Grand Prix amid torrential rain. To kick off a new series highlighting moments in F1 history when drivers and teams punched above their weight, we spoke with his race engineer that season, Pat Symonds, for a trip down memory lane and a fresh take on the beginnings of the Senna legend…
Ayrton Senna was hot property at the end of 1983. He had just beaten Martin Brundle to the British Formula 3 title and won the prestigious Macau Grand Prix, adding to British Formula Ford 2000 and European Formula Ford 2000 titles the year before, and the Formula Ford 1600 title the year before that.
READ MORE: From Hamilton and Villeneuve to Schumacher and Senna – The best rookie seasons in F1 history
Several F1 teams were already showing an interest, with McLaren, Williams, Brabham and Toleman setting up test runs for Senna through 1983. During his outing for Williams at Donington Park, he impressed by lapping faster than their established drivers, which included reigning world champion Keke Rosberg.
But with none of the big-name teams following up with immediate offers, Senna found his first F1 home at Toleman, the midfield runners who had spent their first season in 1981 struggling to qualify, the following 1982 campaign struggling to finish and then, in 1983, making some headway and getting a few points on the board.
Senna writes the first chapter of his F1 story
It was there that Senna met his first-ever F1 race engineer, Pat Symonds, who had left the Formula Ford scene just before the Brazilian arrived – and so began the start of a Grand Prix career that would go down as one of the greatest in the sport's history.
"I'd been aware of him through Formula Ford," says Symonds, recalling his first memories of Senna. "I'd been involved in Formula Ford up until 1980, so even in those early '80s when I was in F1, I was still watching what was going on there, and everyone was talking about this guy. We had a spate of Brazilians at that time, but everyone was talking about Ayrton.
READ MORE: Actor who will play three-time F1 champion Ayrton Senna in new Netflix series revealed
"He'd tested a couple of F1 cars and people were raving about him. We managed to sign him at Toleman; I was pretty pleased about that. I thought he's good, competent, but he's young. When we first ran him in a test, I thought, 'Ooh, actually, he's a bit more than that.' He's one of these people who makes you really sit up and take notice.
"It's a funny thing, in those days particularly – and even these days to some extent – you used to get some people who showed up really well [in other categories], then they get into an F1 car and they just didn't get to grips with it, and you get other people who had been okay, and they get into F1 and they're at home. He was definitely at home in an F1 car – it just did not phase him at all.
"The other thing that struck me was I had never actually met anyone before who had such high self-esteem. Ayrton knew he was the best in the world before anyone else did. I mean, all racing drivers have it, but I'd never seen it like this before."
When Senna left Symonds "seriously concerned"
His raw speed was undeniable, and he had plenty of confidence to boot, but one key element that Senna still needed to get to grips with was the physical nature of driving F1 machinery. Toleman started the 1983 season by running their previous TG183B challenger, a bulky, heavy design that put the drivers who jumped into the cockpit through an intense fitness test.
Senna's first Grand Prix on home soil in Brazil essentially kicked the issue down the road, with his turbo failing after eight laps and meaning he was still yet to complete a full race distance. But then came South Africa and, after rising from 13th on the grid to sixth at the chequered flag, his push to finish and score the final point on offer came at a severe cost.
READ MORE: McLaren to honour Senna legacy by permanently featuring logo on F1 cars
"We did four races with the old car, and that was really us learning together; Ayrton learning a bit about F1, and me learning a little bit about working with a top-line driver, I think," Symonds recalled. "Not to say the drivers before hadn't been bloody good, but, you know…
"The first race was Brazil and we retired from that, so the second race was South Africa, and South Africa is a difficult race. It's difficult because you're at 2,000 metres [above sea level], there's not a lot of air, so the drivers get fatigued.
"And the TG183B, which was the car he was driving then… Jesus it was a heavy car to drive – you needed some muscle! It was the first Grand Prix distance he'd done, because I don't think we'd done one in testing.
"At the end of the race, he couldn't get out of the car – he had to be lifted out. I was seriously concerned. He looked like he was going to die, he was so unfit. All that is part of this learning together as we got through those first few races, and then we got to Dijon with the 184…"
A new car brings new promise for Senna and Toleman
Senna got his first taste of Toleman's new TG184 car – and tyres from new supplier Michelin – during a test session ahead of the French Grand Prix at the same Dijon circuit, where another learning experience would present itself for both driver and race engineer…
READ MORE: From Senna's Suzuka stunner to Button's Montreal magic – 10 of the best comeback charges in F1 history
"It's a funny place in the middle of nowhere," Symonds remembers with a smile. "There was one guy who owned it and he was an absolute tyrant. When we were testing there, we had a turbo fail, which was quite a common thing in those days.
"We were the only people testing, because you used to do your testing privately then. Ayrton realised the turbo had gone, the car started to catch fire as they generally did when the turbo went, but he thought, 'Well, I've got to get it back to the pits', because we didn't have marshals or fire extinguishers around the place or anything.
"The guy who owned the circuit went absolutely bananas, because we'd put oil all over the circuit. Anyway, when we got there for the race, we could tell we'd got a pretty good car, and we'd got the Michelin tyres…"
While that rather dramatic test was followed by a double DNF for Senna and team mate Johnny Cecotto, hopes remained high at Toleman and, when wet weather presented itself for the following Monaco Grand Prix, the stage was set.
Senna's magic on the streets of Monaco
Showcasing the wet-weather skills that would become a theme of his F1 career, at Monaco that season, Senna charged from his 13th-place grid slot into the points, overhauled a host of front-running cars and eventually latched onto the rear of Alain Prost's McLaren, just before the race was red-flagged due to the level of rain.
READ MORE: The top 8 Monaco masters – and their greatest wins in the Principality
As Prost slowed across the start/finish straight on the 32nd of 76 scheduled laps, Senna splashed his way into the lead and, for a moment, a stunning victory upset was on the cards. But with the results taken from the lap before, the win went to Prost, officially 7.446s clear of Senna.
On the one hand, Senna and Toleman had just pulled off one of the biggest shock results in recent F1 history, but it could have been even more…
"It really was a breakthrough," Symonds begins as he assesses the race. "But I remember having this incredibly mixed feeling. I could not decide whether I was happy or sad. Finishing second, so nearly winning it, of course you should be happy, but being the sort of person I am, I wasn't happy! We didn't win.
"I remember going home and my wife said, 'Oh, that's fantastic!', and I said, 'No it wasn't. One more lap and we'd have won it!' You sort of wish for things to be different, you wish for one more lap, you wish that you could have won.
"But there were a couple of things that you tend to forget. One was that Stefan Bellof in the Tyrrell was also bloody quick, and he was coming up behind us. The other was that when we stripped the car down after the race, we did find that a front rocker was cracked. I know when it happened, because earlier in the race he'd had quite a big off and a real, big bounce over the chicane kerbs.
PODCAST: When Senna punched Irvine – Listen to the full story, as told by those who were there
"It's one of those things, you never know… It might have lasted the rest of the season, it might have lasted the rest of the lap. You just never know with these things. Overall, all these years later, I take what I got from it, I think, without wishing for more."
'What could have been' aside, Senna's performance rocked the F1 paddock that day, with Symonds left in no doubt over his burgeoning driver's potential as personalities up and down the pit lane watched on in awe.
"It made a huge impression, not just on me… In fact, it probably made less of an impression on me than all other people, because I'd seen it sort of coming," he comments. "It made a hell of an impression on an awful lot of people.
"I think the reason that he was so good there was his precision of driving was absolutely amazing. Of course, that's what you needed in Monaco, and you needed it even more in the wet."
Symonds remembers Senna's sixth sense
That precision was highlighted three races later at Dallas where, having qualified a then season-best of sixth on the grid, an early-race spin forced Senna to fight back through the field, which ended when he made contact with the wall and his car sustained a broken driveshaft.
READ MORE: From Ascari to Verstappen – How all 11 back-to-back F1 champions did the double
Symonds recalls Senna coming back to the pits and informing him that the wall had, in fact, moved…
Used to hearing lines from the racing driver's book of excuses, and rather sceptical of this explanation, Symonds headed out to the spot he had crashed to take a look. Lo and behold, the concrete block in question was not in the position it had been at the start of the race.
Tyre marks on the block confirmed that another driver had clipped it, meaning the front-edge was a few millimetres out of place and, given the lap-by-lap accuracy with which Senna was driving after his spin, it proved enough to catch him out.
"That day in Dallas, I didn't believe it, which is why I went out with him to look at this wall," Symonds says. "That's when I realised just the precision he was talking about; every lap was within millimetres – absolutely incredible.
"His natural ability, his car control, all these sort of things… Of course, they all counted to it, but that day in Monaco, there was this absolute precision of driving in almost rally conditions rather than Grand Prix conditions."
Alongside Senna's precision, he displayed a level of perception to match, with Symonds remembering a similar story when it came to feeling the machinery underneath him and when things were about to go awry…
READ MORE: Prost vs. Senna – The top 10 moments of F1's defining rivalry
"When I first worked with him, prior to the first races, I think what struck me was that he had an enormous ability, he had enormous perception – really something I hadn't seen before," explains Symonds. "He just knew what the car was doing.
"I remember later in the season when we were testing at Zandvoort, he came into the pits and he said, 'The engine's going to blow up, I can feel it'. We checked everything, we couldn't see anything wrong, we went out and it went bang! He just knew these sort of things."
Senna flies the Toleman nest
Given his performances over the first half of the season, punctuated by that breakthrough Monaco result, several teams were on the hunt for Senna's services for 1985, leading to discussions with recent race winners and world champions Lotus.
At this point, Senna breached the terms of his first F1 contract, for while he had a buyout clause, any talks with rival teams needed to be raised with Toleman first. As a result, team manager Alex Hawkridge took the decision to suspend him from the Italian Grand Prix.
While he returned for the final two races of the season, finishing in style with a run to third in qualifying and the race in Portugal, and adding to the other podium achieved at Silverstone, Senna's future would be with Lotus, not the Toleman team who had given him his debut.
BEYOND THE GRID: Alain Prost on Ayrton Senna, his 1993 title – and almost rejoining Ferrari
"I think at the time, I felt very aggrieved," admits Symonds. "As did Alex, and that's why he suspended him at Monza. It was a little bit of cutting off your nose to spite your face, there's no doubt about it.
"But actually, a long while afterwards, Ayrton said to me that he learnt a lot from that and it did bring a little bit of humility into him, because he did learn that he couldn't just do what he wanted and he had to have some respect for other people.
"I was actually quite hurt that after just one season he'd gone off to drive for someone else and done it in the way that he did it. But at the same time, we're competitive people and there is no doubt he'd got a pretty plumb drive there with Lotus.
"Toleman, yeah, we'd moved up a lot in '84, but we didn't have two pennies to rub together. He knew that, he knew that we would struggle. I never really blamed him for that."
Senna's Monaco drive stands the test of time
However the end of their time together at Toleman played out, Symonds and Senna always had that special day in Monaco – a result that Symonds ranks highly among the many race wins and World Championships he went on to achieve with Benetton and Renault.
READ MORE: Prost vs Senna, Mansell vs Piquet and more – F1's fiercest team mate rivalries
"There've been a few championships and a lot of wins, but that was a bit of a breakthrough. It's top three [on the list]," says Symonds, his future stints with Michael Schumacher and Fernando Alonso yielding four drivers' titles, three constructors' titles and more than 30 victories.
"I think it goes along with: first win [with Gerhard Berger] in Mexico '86, first points [with Derek Warwick] in Zandvoort '83. Right at the top is the second championship [for Schumacher and for Benetton] in '95, because the '94 championship had all the controversy around it.
"But it's in that top three. That single race that I didn't win, that we didn't win, certainly ranks with any race that we've won, and ranks above some of those championships."
Race wins and world titles flow for Senna
Just a few months after leaving Toleman, Senna would secure his maiden F1 victory in the 1985 Portuguese Grand Prix, going on to take five more over a three-year spell at Lotus. Then came a move to McLaren for 1988, which marked the step up to championship-contending equipment he had been craving.
Before his untimely death at Imola in 1994, Senna had racked up 41 wins, 65 pole positions, 80 podium finishes and three world titles, with the promise of plenty more.
READ MORE: 'He obliterated the opposition' – Remembering Senna's first F1 win
For Symonds, none of that success came as a surprise, as he watched the driver he had helped adjust to the demanding world of F1 competition flourish under the spotlight…
"I was absolutely convinced he was going to win championships," says Symonds. "I wasn't in the least bit surprised. Was he the best ever? I don't know. We never will know…
"We kept a good relationship really, all the time up to his death. As always with these things, you drift apart a little bit, but I always respected him, and I think he respected me as well. I think he enjoyed it when I was his race engineer – or as I prefer to say, he was my driver!"
You'll unlock this article and get access to:
Already have an account?
Sign In
https://www.interdeportes.es/wp-content/uploads/2023/04/Senna-Underdog-Tales.jpg
0
0
interdeportes75
https://www.interdeportes.es/wp-content/uploads/2021/10/logo-nuevo-fondo-claro400x111.png
interdeportes75
2023-04-13 04:43:01
2023-04-13 04:43:01
F1: Feature F1 Unlocked UNDERDOG TALES: When Senna took the F1 paddock by storm with Toleman and made Monaco's streets his own